SRED-ERIPortable Trace Explosive Detector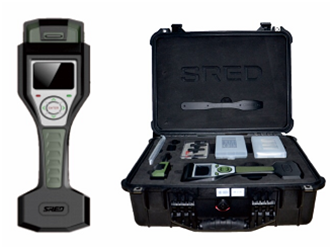 SRED-ERIis portable trace explosive detector with high sensitivity able to detect more
than 40 kinds of explosives and intermediates, including TNT, DNT and other nitro
explosives,black powder, ammonium nitrate, etc. With specific monolayer sensing films
chemically fabricated by self-assemblingfluorescent conjugated polymers, SRED-ERI can detect trace explosives by one in one billion, thehighest test level in the world.
SRED-ERI is composed of a control unit and an independent explosive detection probe.
They can be connected directly for single handoperation, or connected with cable to improve operability.
SRED-ERI is one ofthe best explosive detectors inthe world with superior performances,
lightest weight, smallest size and fastest response. Nowadays it has been widely used inrail transit, freight station and other high circulation rate places.
Incontrast of the 1st generation SERD detector, SRED-ERI has re-designedthe structure
of sensor and heating sampler, optimized the referenceacquisition and background signal
processing algorithm, thus the stability hasbeen greatly improved. Moreover, through the specific signal processingalgorithm, classification and recognition of detection components can berealized, and the database upgraded, thus SRED-ERI is especially applicable for channel
detection of large flow of people.
Features:
Easyto operate
Widedetection range
Shortresponse time
Explosivedetection
Smallsize and light weight
Highsensitivity
Structuraldesign for industrial grade
Automatic recognition ofexplosives and drugs
Support 4G and WIFI (optional)
Specifications:
Detectableexplosives/drugs: TNT, DNT,BP,NG,HMX,RDX,AN,TATP etc.
Sampling mode: non-contactvapor sampling and contact wipe sampling
Alarm mode: sound alarm,image alarm, wireless alarm
Sensitivity: TNT 10-12g
Analysis time: ≤10s
Self-cleaning time: ≤10s
Warm-up time: ≤30s
False-alarm rates: ≤1%
Display screen: 3.0-inchindustrial-grade color semi-transparent LCD
Working time: ≥10 hours
Work temperature: -20 to 55oC
Humidity: ≤95%
Weight: 1.5Kg (incl.battery)