IntegratedLong Range Acoustic Lighting Defense System (ALDS)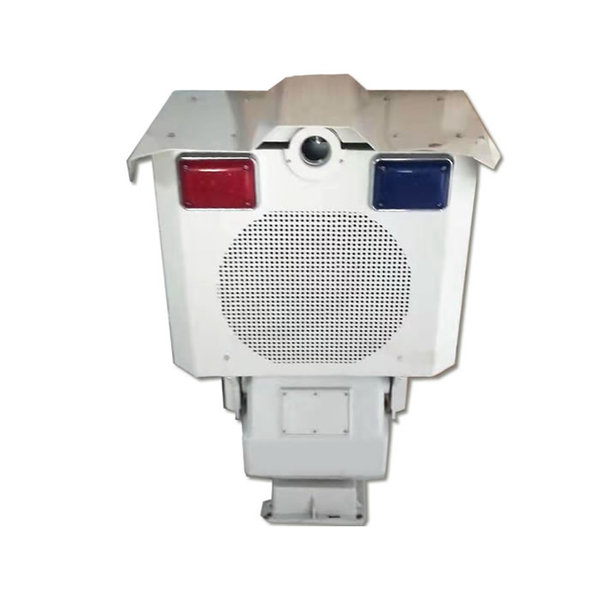 The integrated acoustic lighting defense system (ALDS) is composedof long range acoustic hailer, powerful light, video monitoring system andpan-tilt. It is a non-lethal repelling and monitoring system against riots andterrorism, with the functions of video monitoring, warning, long range acoustichailing and broadcasting, powerful light illumination and dazzling etc.
Compared with water cannon, tear gas and shield used to deal withmass incidents, the ALDS system is featured non-contact, non-lethal,large-scale dispersion and suppression of rioting crowds, long distanceillumination and broadcasting. It is especially suitable for border control,prison, deterrence to unlawful rallies.
The ALDS system can be mounted on police cars, shipboard, andpolice box etc., remotely controlled at the control center, using the camera tocheck the conditions outside, and taking sound and light strikes thereafter.

The ALDS system can also be integrated with radar and video perimeterdefense system to give automated intrusion alerts and take further actions.
The ALDS system is especially applicable for illegal rally, riot,hostage rescue, border protection, fighting drug trafficking and smuggling,search and rescue, prisons, mines, power stations, airports and ports etc.

The long range acoustic hailer can deliver a powerful warningmessage or deterrent tone to drive off targeted people in 200m, and broadcastmessages over 1000m (2000m in open areas). At night, high intensity light(laser or searchlight) can disperse intruders in the range of 150m, and givestrong illumination in 100m. At daytime, light dispersion range is up to 100m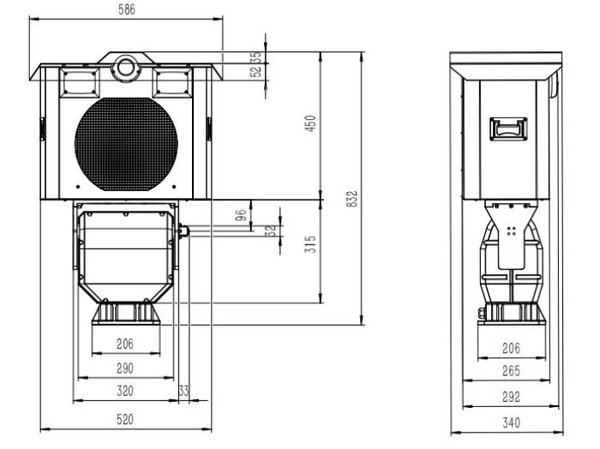 Light Source

Laser

Searchlight

Total Power

≤1000W

≤2800W

Weight

<60kg

<80kg

Power supply

AC220V / DC24V

AC220V / DC24V

Wireless telecommunication

RJ45,TCP/IP/RS485/RS422

Host control

work alone / network

Camera pixel

2 million

2 million

IR camera distance

80m

80m

Camera day/night conversion

ICR filter

ICR filter

Size

586*400*850mm

800*600*1200mm

Monitor

16 inch

16 inch

Remote control

by handle

by handle

Work temperature

-45 to 55oC

-45 to 55oC

Protection Index

IP55

IP55

Acoustic Hailer

Max. Sound pressure level

@10m

138±3dB

138±3dB

Broadcasting distance

≥80dB@1000m

≥80dB@1000m

Sound beam width

15oX15o

15oX15o

Reverse sound pressure level attenuation

≥30dB (1m@2.5kHz)

≥30dB (1m@2.5kHz)

Frequency response

350-8000Hz

350-8000Hz

Sound source

Bluetooth, microphone, line input

Strong Light

Light color

Green

Natural white

Output power

3W

3000W

Work mode

CW/TTL

CW/TTL

Beam divergence angle

6-17o, adjustable

6-16o, adjustable

Effective dispersion distance

≥100m

≥100m

Illumination distance

≥100m

≥100m

Pulse Frequency

5hz-9hz-20hz flash

Pan-tilt Mount

Rotating angle

0-360o, horizontal

Horizontal rotation speed

0.01-15o /s

Pitch angle

-10~20o, vertical

Vertical rotation speed

0.01-7o /s
Features:
The light source can be searchlight, high power LED, light arrayand laser.
1)Green Laser
Advantages: concentrated beam, very effective on human eyes, lowpower consumption;
Disadvantages: poor illumination, narrow beam range.
Laser beam can dazzle eyes effectively in the range of hundreds ofmeters to several kilometers.

2)Powerful white searchlight
Advantages: long range, high illumination;
Disadvantages: high power consumption, big size and weight.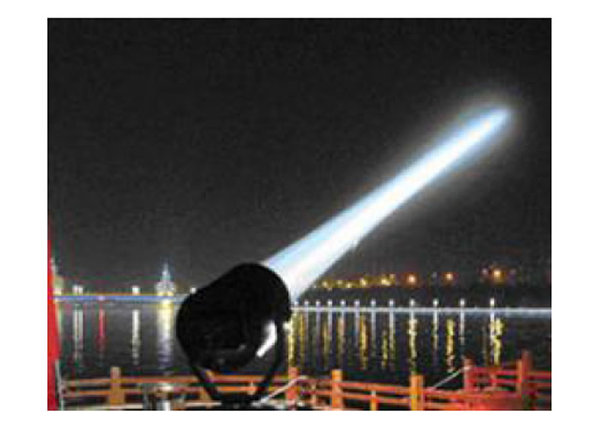 3)Long Range Directional Acoustic Hailer
The long range directional acoustic hailer is composed of an arrayof small loudspeakers. By enhancing and offsetting the beams of loudspeakers,the central beams are intensified, while the surrounding beams are weakened, sothe effective distance is extended with less damage to the operator behind thedevice.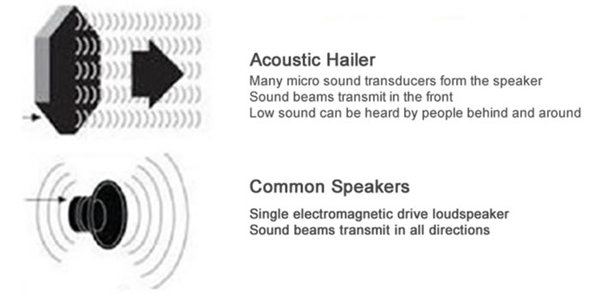 The maximum sound level can be up to 150dB. Different hailers mayhave different dangerous range. Beyond the dangerous range, the hailer is veryeffective, while no permanent damage to human hearing is brought.