S4000 3D Scanning Doppler Wind LIDAR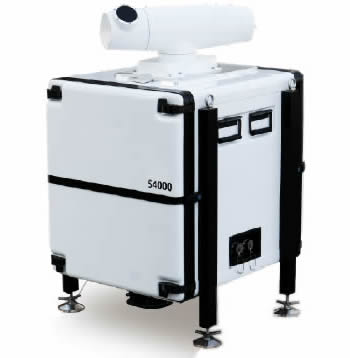 S4000 Doppler Wind Lidar with the abilityof 3D wind fieldmeasurements in atmospheric boundary layer and lower tropospheric is designedfor applications in various fields such as wind power, aviation weather andclimate, air quality and so on. It is a coherent Doppler lidar with highefficiency and sensitivity. The compact all-fiber configuration
turns the lidar into a portable autonomous system with no electromagnetic
interference.
S4000 3-D wind lidar works at eye-safewavelength in near infrared spectrum (1.4um-2.2um), probes the wind field from the ground to 4000m at very high temporal resolution (second level) and spatial resolution(30 m) and accuracy (≤0.1 M / s). It compensates the disadvantages of wind profiler radarin detection capacities, and can continuously obtain the 3-D wind field parameters within the scope of atmospheric boundary layer.
This 3-D Lidar will boost the offshore wind power and complex site wind farm markets
with advancedtechnology at lower cost.
FEATURES
Eye safety, ultra-portable, low powerconsumption, quick launch, easy operation
Unattended and continuous operations inharsh mountainous regions, and can turn on/off automatically according to theweather conditions.
Measure max. altitude 4000m at variousscanning ways like DBS、VAD、PPI、RHI etc.
Can probe windspeed, direction, shear and air turbulence instantaneously with high speed datasampling rate
Modular design for different platforms,buoy and vehicle-mounted
MAIN ADVANTAGES
Reliable&Space-time resolving&Accurate
Compact&Easily transportable
Instant outdoorset up&Plug and play
Easily operate andmaintenance&Unattended
Self calibration&More than 5-10 years' lifetime
Software upgradefree&Personalized
SPECIFICATIONS
Performances

Measurement range

80m-4000m

Laser wavelength

1550nm, Eye safety Class 1M,Compliant with IEC 60825-1

Data update rate

Max 4Hz(configurable)

Wind speed range

0-70m/s

Wind speed accuracy

≤0.1m/s(Radial velocity); ≤0.2m/s(WindProfile)

Wind direction accuracy

<3℃(Wind speed>2 m/s)

Radial range resolution

30m/ Configurable, no less than 160 layers

Scanning servo accuracy

±0.1°

Scanning features

PPI:0~360°,RHI: 0~180°,Pointing accuracy: 0.1°, Scanning speed: Max:55°/s, Scanning model: PPI/ RHI/DBS

Technical

Weight

<90kg

Data storage

1T SSD, more than 12 months of data storage

Power consumption

(Normal temperature)≤300W

(L*W*H)/Size

746* 764*1000 mm

Power supply

AC 220V/50Hz

Environmental

Operating condition

T:-30℃~-50℃ (Relative humidity):0~100%

Housing classification

IP65(Standard configuration)

Ice/Rain protection

Automatic window blower&Heater

Software/Data

Output data

LOS wind speed, Wind profile , PPI/ RHI/CAPPI

3D wind field

Signal -to -Noise Ratio(SNR)

Local temperature, pressure, humidity etc.

Data format

ASCII

Data transfer

Ethernet/CAN/3G