Hand-Held Diver Imaging Sonar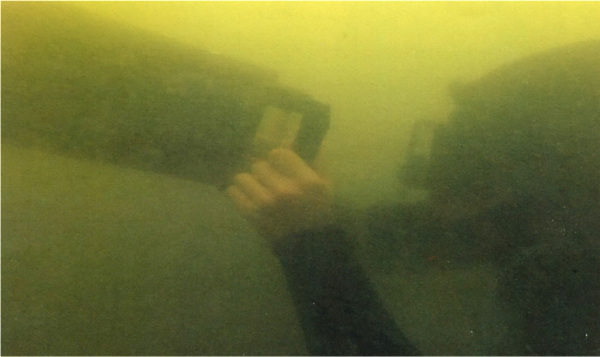 HT-90 hand-heldmulti-beam imaging sonar can assist research-and-rescue divers to take realtimedynamic 2D acoustic images and locate underwater objects on the seabed (up to50m) . It is most cost-effective tool for underwater search-and-rescue missions.
HT-90 visual sonarcan take high quality acoustic images at fast frame rate in poor visibility
conditions. It has three imaging ranges to set: 40m, 80m and 120m. The maxrange resolution is 0.0384m, max angle resolution 0.47 °, and highest imagingspeed 5f/s. Data can be stored in the built-in hard disk, and be transferredunder the UDP protocol.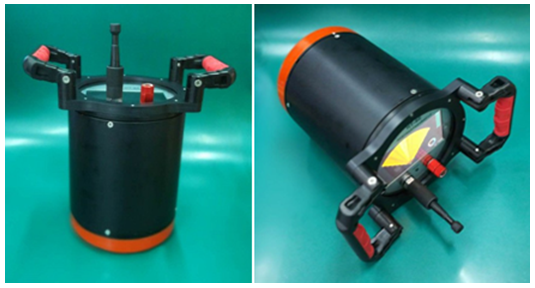 SYSTEM COMPOSITION
HT-90 is a compact self-containedvisual sonar system composed of acoustic probe, electronic room, console andhandles. Acoustic images are displayed on a 5.5 inch HD screen, and underwaternavigation information by the internal compass is also shown on the screen.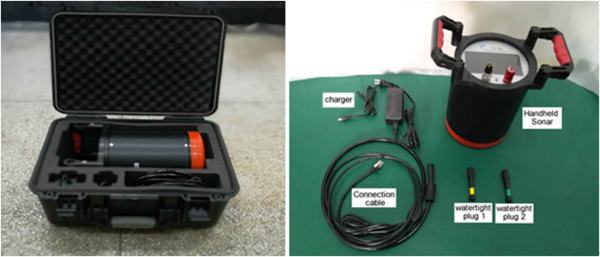 HT-90 imaging sonaris easy to operate, with a switch knob to start/stop imaging and power on/offthrough time control. Holding it upright for 5 seconds can change the detectionranges.
HT-90 can communicatewith the surface computer through the 100M network in the watertight connectorfor downloading data or displaying images synchronously to meet the needs invarious applications.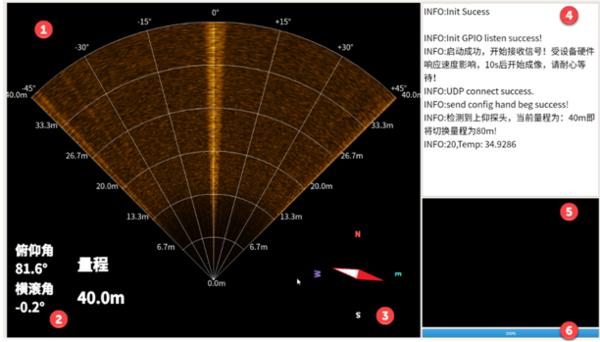 Display area: show acousticimages, measuring range, attitude and compass information.
Info area: show sonarsettings and some necessary information.
The info area containsthree areas: 4textarea, 5imagearea,6progressbar area.
Text area 4:words indicate the sonar setting status, operation instruction, error info andsimple operation scheme.
Image area 5: useimages to indicate operation methods, and relevant info for compasscalibration.
Progress bar area6:indicate current operation progress, some info for compass calibration anddetection range switching.
APPLICATIONS
HT-90 h is amulti-purpose sonar system for military, police and civilian use. It is divervisual sonar for searching and detecting underwater objects, frogmanconfrontation, detection of explosives and obstacles; detection and inspectionof underwater facilities, location and identification of underwater evidence(e.g. crime tools and dead body), underwater safety inspection; rescue ofmissing persons and objects, anti-smuggling goods under water surface; surveyof seabed infrastructure within the offshore oil & gas environment (e.g.pipelines, well heads, structures); salvage of lost property, vehicles, ships, aircraftsand wrecks; rescue of underground mine tunnels, search of underwater concealedsewage outlets for river environmental protection; process inspection ofunderwater construction engineering control and many other purposes.
HT-90 is smallview-of-field underwater search and rescue equipment. For big range of searchand rescue, it can work with dipping Omni-directional sonar at much improvedefficiency.
4. SPECIFICATIONS
| | | | |
| --- | --- | --- | --- |
| Imaging range | 40m/80m/156m | Frequency | 600kHz |
| View of field | 90º(H)/15º(V) | Operating depth | ≤ 50m |
| Distance resolution | 4cm | Operating time | 2h |
| Azimuth resolution | 1º | Size | Φ180×250mm |
| Frame rate | 4-8 f/s (40m) | Weight | 8kg |
| Operating temp | -10 to 50 oC | Storage temp | -40 to 70oC |
CPU: Quad-core ARM® Cortex-A57MPCore processor
GPU: NVIDIA Maxwell®architecture with 128 NVIDIA CUDA® cores
Frequency: 1GHz
Memory: 4G
Hard disk: 64G Micro SD
Data transfer:1000M byte