Thermal Camera Integrated SurveillanceRadar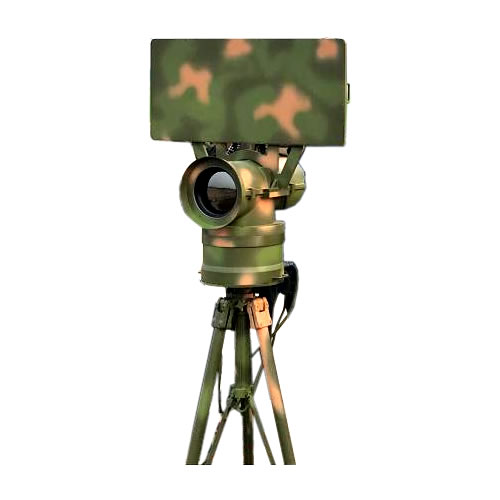 KU03 consists of the front-end sensor (RF,video monitoring) and the back-end control system. The front-end sensor ismainly composed of radar, thermo-magnetic imager, video server, controller,etc. The back-end system consists of computer and monitoring/processingsoftware. The radar detects targets in the specific range, transmits thedetected target information to the monitoring terminal, and display on GISsystem. When the target enters the video monitoring range, the operator aimsthe camera towards the target, and transmits the video data to the control center.

Applications:
Tactic detection and identification, night surveillanceand monitoring, combating smuggling,Monitoring roads, pipelines, ports and borders etc., also intrusion warnings
in important areas.
Features:
Detection and identification of target byvideo and radar integration
High anti-jamming and anti-clutterperformances
High performance in searching, tracking andidentifying multiple low, small and slow targets in complex electromagneticenvironment;
High sensitivity and stable performance;
High resolution and detection accuracy;
Multiple radars can form a circularsurveillance network with extended surveillance range;
Advanced background compensation gradientalgorithm and embedded soft control filtering technology.
Specifications:
Frequency band: Ku
Detection range: (Pd=0.8 Pfa=10-6)
Armed men: 4km (σ=0.7m2)
Small vehicles: 6km (σ=2m2)
Large vehicles: 10km (σ=10 m2)
Antenna sector scan angle: 0-360o
Gain: >33dB
Azimuth plane: <2o
Amplitude: 45o
Sidelobe level: <-28dB
Radial velocity of detectable target: 3km/h-72km/h
Azimuth Angle accuracy: <5o
Range and scope: 240m-15km
Distance resolution: <8m
Azimuth resolution: <2o
MTBF: >2000hr
MTTR: <30min
Erect and Roll-up time: <1min
Continuous work time: >7hr
Power consumption: <80W
Transmitted power: 2w
Total weight (excl. battery: 25kg
200MMThermal Magnetic Camera
Pixel Resolution:
Field Of View Angle: 640x4803.54x2.66 (sceneof narrow)
Field of view angle: 12.67x9.52 (wide fieldof view)
Lens: 200mm, germanium selenium compositeglass
Detector: highsensitivity polysilicon array, detection, focal plane
Scan Frame Rate: 25f/s
Detection Wavelength: 8.2-14.5μm
Space Detection Pixel Size: 17μm
Video Output: PAL
Optical Continuous Zoom: 1-35times
Supply voltage: DC 9V to 12V
Battery: 8000mAh
Work current: 550mA
Continuous Work Time: >12hr
Work Temperature -25 to 65oC
Main body: 436x266x265mm
Controller: 148x50x40mm
Weight: 17kg