14KM Portable Phased Array Ground Surveillance Radar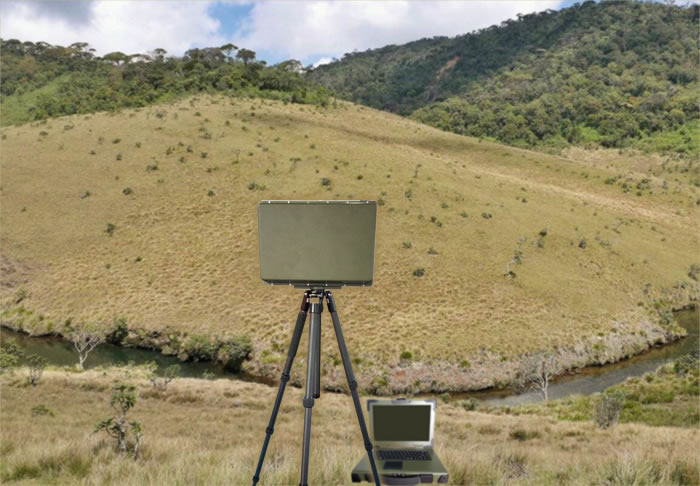 GS15 is portable ground surveillance radar detectingmoving targets such as walking persons and moving vehicles, and measuring thedistance, speed and direction of the target, and even identifying the numberand type of the target. It is suitable for army, border guard and site securityapplications.
GS15 is compact one-dimensional activephased array radar of electrical scanning, scanning fast, and flexible switch betweenfocused monitoring and area monitoring, and with outstanding detectionperformances. Through the Doppler frequency domain processing technology, itensures the superior detection ability and accurate positioning of low-speedtargets in complex terrain like sidewalk, and it can accurately measure thedistance of the target; through the sum/difference measuring angle, it can givethe accurate angle of the target in the beam; With Beidou positioning, it cancalculate the accurate longitude and latitude of the target.
It can be mounted on tripod, and on vehicleor tower as well.
Features:
Adopts advanced constant false targetdetection algorithm, joint analysis of distance, azimuth and speed, and multiparameter inter-correlation, to minimize the false positive rate.
Operates 24/7 in rough terrain and allweather conditions, in rain, fog or snow
No moving components, low failure rate and lessmaintenance, stable and reliable
High integration, compact and lightweight,man-portable
Simple installation and fast deployment
Low power consumption
Specifications:
Frequency band

Ku

Max. detection range

14km

Detection target

Pedestrian / Vehicle

Detection area

Azimuth: ≥90°

Detection range

Man (RCS=0.5m2): 8km

Vehicles (RCS=5m2): 14km

Minimum detection velocity

0.5m/s

Range accuracy

10m

Angle accuracy

0.4°

Data rate

0.2Hz

Power consumption

<80w

Power supply

20-28VDC

Interfaces

Ethernet (UDP) / RS485

Weight

< 6kg

Size

370*255*85.3mm